Adam Hayes is a typographer and illustrator. He works on a broad range of projects from quick editorial illustrations to large-scale international campaigns, preferring to create designs that are new and unique each time. He loves a brief.
Since his graduation from the Royal College of Art in 2006 he has developed a solid roster of clients that includes Absolut, Apple, British Airways, Capital One, Ernst & Young, Ford, IBM, the L.A. Marathon, Nike, Unilever, and the V&A Museum – whilst also devoting time to personal projects.
Adam creates all of his work by hand. His typical working method is to produce lots of quick pencil sketches as response to a project brief, often drawing over and over to capture the best design approach. He develops these sketches into refined ink drawings, before manipulating and adding colour in Photoshop.
Adam lives and works in Wales with his partner, Sarah Bridgland and their two kids. When not in the studio Adam can be found either mountain biking in the hills, hiking over the moors or embarking on a family adventure.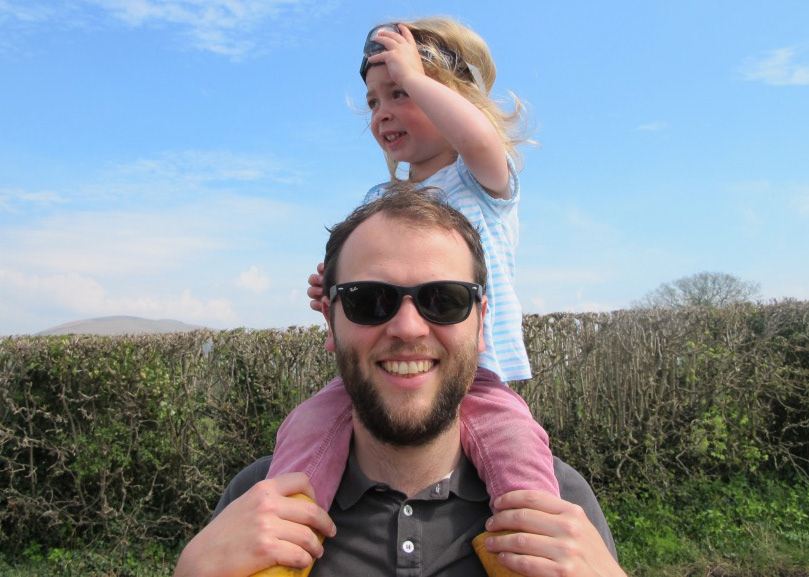 You can also contact Adam directly at mrahayes(at)me.com or send a message using the form at the bottom of this page.
Dizzy with dialogue, Adam Hayes creates illustrations that are marvellously manifold; there is a sense of endless invention when looking at his colourful portfolio.
Since graduating from the Royal College of Art in 2006 he has decorated letters for a range of clients, including Channel 4, IBM and Apple. Fonts flow and sentences sing from his drawings; Adam builds worlds around words in meticulous detail.
LL: What was your experience of learning and creating at the RCA?
AH: I had a great time there. I worked in a studio with some very talented artists and it was a great place to develop my own work. I spent a lot of my time experimenting and messing about in the letterpress department where I learned about typography from the brilliant technician there. While at college I began to look for illustration commissions to help pay for my studies; this workflow slowly increased and once I graduated I just carried on working – I've barely stopped since!
LL: Do you keep a sketchbook?
AH: Sketchbooks are essential to my working process. Everything I do begins in the sketchbook, usually as scribbly pencil drawings. My process usually involves repeatedly drawing over and over until I have the idea or composition I'm looking for – it's a bit like using the pencil to think. All of my work is hand drawn, and sketchbook ideas are re-created on larger sheets of paper or drawn straight onto the screen via a graphic tablet.
LL: What is your preferred tool and why?
AH: My preferred tool is a Faber-Castell HB pencil – these pencils are the best.
LL: Where are you currently based?
AH: I'm from Stoke-on-Trent, but I haven't lived there since I left for university in 2000. I then lived in London for many years after my studies, before the urge to live in the countryside became too strong. Leaving the city behind was a massive change of lifestyle, but working as a freelancer offered the opportunity to experience something different. We (my girlfriend, daughter and I) have moved around a lot. We've just recently found a new home in Wales and it's been nice to get a proper studio to work in again. The sun is shining and I can see mountains out of the window, what more could I need?
LL: How would you advise any aspiring illustrators looking to make it in the creative industries?
AH: Spend more time thinking up ideas rather than learning computer software. Fill up loads of sketchbooks and keep them – these will help when you can't think up new ideas. And try not to look at other designers/illustrators work too much.
LL: You illustrate lots of slogans – which slogan best sums up your philosophy for life?
AH: I don't really have a philosophy for life, other than trying not to work too much. Maybe I'll illustrate a new poster which say's Take The Day Off!
LL: What would be your dream commission?
AH: I'd love to do something really massive, like a design wrap for a jumbo jet or a mural on a huge wall.
LL: Tell us about your work for IBM.
AH: The team at IBM first commissioned me a couple of years ago for some (eventually unused) illustration work. This kind of led to me designing short gif's for their Tumblr IBMblr and their super-computer called Watson. I've since designed and illustrated a series for them, my favourite so far being of imagined machines which are a perfect fit for the looping gif format. The technological subject matter for the gifs is always fascinating, and always a challenge to illustrate, but that's the kind of work I love best.
LL: What place do you think illustration has in the world?
AH: Illustration has a wide-ranging role to play, from in-your-face artwork for big adverts through to the smallest, wittiest drawing. I love it when illustration is used to convey an idea that cannot be easily explained in words, or brings to life something otherwise invisible. Illustration's impact on the world is only as powerful as the imagination of the illustrator (the skill and technique of the image-making is a given). A picture is worth a thousand words, but only if it's the right picture.
LL: Why are you an illustrator? What do you love about it?
AH: I'm an illustrator because I love drawing and I love to test my imagination against an illustration or design brief. I'm fascinated by typography and I've always tried to incorporate this into my work where suitable. A lot of my work is about the meeting of my love of type and the impulse I have to always be drawing.
I love being an illustrator as I get to work on all kinds of subjects, and subsequently becoming a mini-expert on all manner of random topics. I tend to work fairly quickly, and I love working to a deadline – both of these help immeasurably in this field! But the best thing is being paid to draw pictures or think up ideas, that and being my own boss (most of the time) too.
Let's talk about your project...